Details

Hits: 17516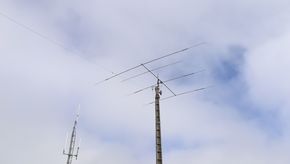 This year, we again needed a lot of work to be QRV for the REF phone contest.
The numerous storms have destroyed all our antennas and the rotator.

The antennas have been repared and the last works have been done friday evening...

Details

Hits: 14579
The storms that hit Corsica in november/december 2019 didn't leave any survival chance to our setup !
Many trees are broken and fell on the road, even very large and old ones.
All antennas suffered. The yagi boom bent, 2 elements are broken and flew about 50 meters away, the 40/80m dipole was ripped off.
Half of the weather station is broken and was found in the bush. The anemometer exploded and the weather vane is broken...
In short, there is work in prospect ...